Come and discover the Lagoon!
It is a natural pond without chemical treatment of 710m².
Open from June to September, as it is an unheated pool, you can lounge around on hot summer days.
With its fine sandy beach and its bar for a little refreshment, no need to go to the Vendée coast, it's the sea that comes to you!
A PMR access has been created in order to allow the use of the lagoon to people with reduced mobility.
Les nouveautés s'enchainent au Domaine de Mélusine !
What if Les Epesses was synonymous this year with a vacation with your feet in the water?
After the inauguration of the mini-golf course, it's time for a unique swimming experience: the 710m² natural pool! Enjoy a natural pool during your vacations in the Vendée
If you are looking for accommodation with a natural swimming pool in Les Epesses, come and discover the new aquatic area of our outdoor residence. Enjoy an enchanted interlude during your stay by giving swimming a whole new dimension.
In a concern of eco-responsibility
The lagoon has been designed to blend harmoniously with the environment. With the greenery as a backdrop, not far from our cottages, the new biological swimming pool should appeal to adults and children alike.
Low ecological impact
Without chemical treatment, the natural swimming pool is as respectful of man as of nature. Chlorine-free, no more irritated eyes, damaged hair or skin allergies. The water treatment is done without toxic products for a cleaner, less aggressive cleaning.
It will be a pleasure to bask in this haven of peace during the hot summer days… And did you know that beyond the conviviality of the place, the ecological baths have many therapeutic virtues? Reduction of joint or muscle pain, detox properties for the skin, soothing powers …
Une plage privée sur la côte Vendéenne, rendez-vous au Domaine Mélusine
Un lagon idyllique dans notre résidence vacances
No need to go to the other side of the world to enjoy a bucolic seaside environment. Our lagoon combines fascinating colors, crystal clear water and the natural benefits of water. The feeling of moving in the water of a natural pool is totally different from that experienced in traditional pools. The skin is softer, the sensation of floating is increased tenfold. Open from June to September, as it is not heated, our ecological swimming pool is an invitation to a total change of scenery and absolute well-being.
More than a green swimming pool, it is a real reconstituted fine sand beach. Like swimming in the sea, the gentle slope is reassuring for children and seniors. The lagoon's surroundings have wide strips of sand similar to a beach club where sunbathing is just waiting for you. This wilderness area also has a bar where delicious refreshments are served.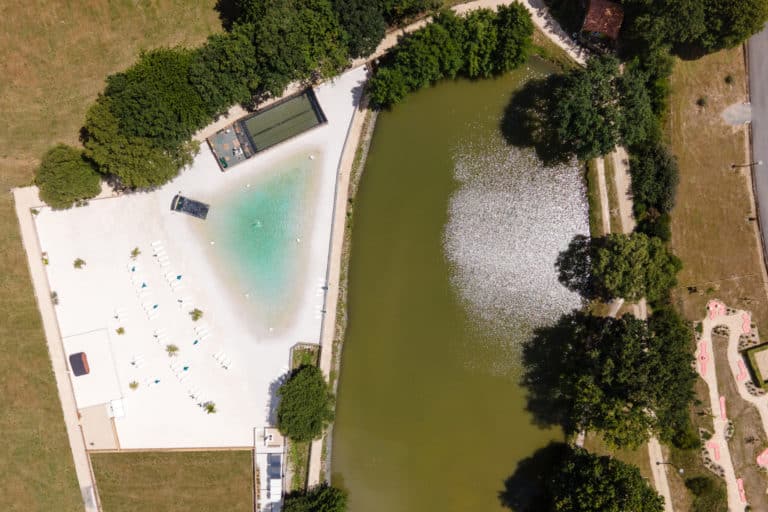 From now on, no need to go to the Vendée coast, the sea comes to you!